The Nut Job 2: Nutty By Nature
PG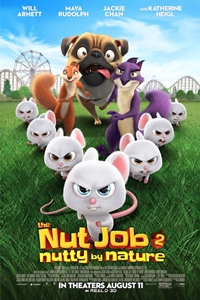 play trailer
▶


Play Trailer
Surly Squirrel (Will Arnett) and the gang are back. We are once again in Oakton where the evil mayor has decided to bulldoze Liberty Park and build a dangerous amusement park in its place. Surly and his ragtag group of animal friends band together to save their home, defeat the mayor, and take back the park.
DetailsAnimation
1 hr. 26 min.
Opened August 11th, 2017
Rated PG for action and some rude humorCastWill Arnett, Brendan Fraser, Liam Neeson, Katherine Heigl, Maya RudolphDirectorPeter LepeniotisWriterPeter Lepeniotis
Lorne Cameron
Today's Showtimes
12:45 PM
2:45 PM
4:45 PM
6:45 PM
10:45 AM
$3.99 Show! Includes A Free Small Popcorn!